My lemon tree is lookin gorgeous! My sisters birthday was yesterday and we threw her a huge party. I'm still recovering from the food coma I was in last night. After lots of delicious food, beer, and cake, we called it a night. I helped my mommy pick lemons from the lemon tree in our backyard because all our relatives wanted lemons. I've never seen them cook with lemons but I suppose they have other ideas for them. I was craving lemonade so I decided to make myself a huge pitcher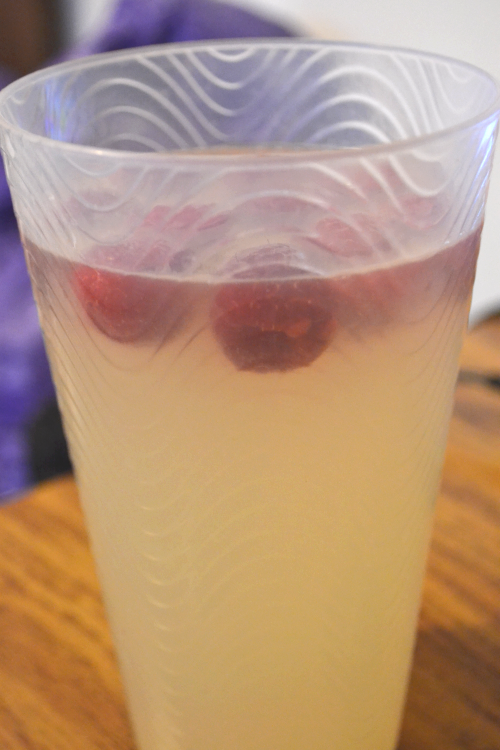 Lemonade with Raspberries
2 cups lemon juice
1 1/2 cups white sugar
6 cups room temp water
1 1/2 cup warm water
raspberries for garnish or strawberry puree (optional)
- Pour sugar in a big pitcher and add the warm or hot water. I like to use 1 cup warm and 1/2 hot but that's just my personal preference. I wouldn't use 1 cup hot water because you might scorch the water and the lemonade will taste kind of funny. Make sure the sugar is dissolved before adding the lemon juice.
- Add lemon juice and stir to mix it completely.
- Pour in 6 cups of water and stir again. You could drink it like this or add raspberries for garnishing. If you like strawberry lemonade, you could puree 3/4-1 cup of strawberries and pour it into the lemonade after you mix the 6 cups of water.


I personally like my lemonade a bit tart as opposed to sweet. I generally add more lemon juice but you could adjust according to your taste preference. I love this with strawberry puree because it makes the best darn strawberry lemonade. I didn't have strawberries on hand so I opted for raspberries. I suppose you could puree the raspberries if you like…I'm not a fan of raspberry lemonade so I don't go that route. Enjoy!
Fail Sweetly,
Justina