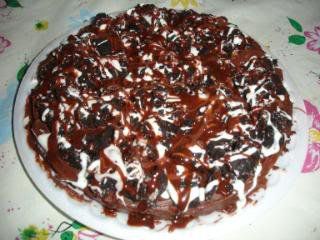 This cake should be called the cake of death. One of my friends from community college had the craziest sweet tooth. She could eat sugar for breakfast if she wanted and not feel like gagging. I was notorious for baking goods for friends for their birthday and she asked me to make her something. I decided to make her a deathly brownie cake with frosting, oreo cakestars, white chocolate, and semi-sweet chocolate. If you know anyone who has THAT crazy of a sweet tooth, feel free to make this for them. You could always substitute with candy bars such as kit kats, reese's, twix, and etc.
Brownie Cake
1 box dark chocolate fudge brownie mix (made according to instructions)
chocolate frosting (I used the canned kind)
1 box oreo cakestars cut into small chunks (I'm not sure if they sell these anymore)
1/4 cup white chocolate chips
1/4 cup semi-sweet chocolate chips
- microwave white chocolate chips and semi-sweet chocolate chips in separate bowls
- frost brownie cake with chocolate frosting
- top with oreo cakestars
- drizzle white chocolate on top
- drizzle semi-sweet chocolate over the top of white choc
I was pretty new to baking back then. You could make the brownie cake from scratch but I used a boxed mix. I baked it in a 9×9 circular cake pan. The toppings could also be a variety of candies. My friend happened to love the cakestars so I made the cake with them but I'm not sure they sell those anymore. I'm sure the cake is fine without the chocolate drizzles but I felt the need to add it and make it look pretty. It'll satisfy any sweet tooth. Personally, I would never eat it because it's way too sweet for me. I would eat the brownie by itself but that's just me. My friend loved it and requested more. Enjoy!
Fail Sweetly,
Justina